KANSAS DIVORCE
For information on Missouri Divorce, click here
What are the grounds for a Kansas Divorce?
Kansas is referred to as a mixed state, meaning that you can use either fault or no-fault grounds as the basis for seeking a divorce, or you can base your divorce on the fact that you've been separated from your spouse for at least two years.
The reason you might want to use fault grounds is to gain an advantage if you're involved in a contested child custody case, a dispute about the division of marital property, or the amount of alimony.
What is the residency requirement for a Kansas Divorce?
At least one spouse must be a resident of Kansas for 60 days before filing for divorce.
How is property divided in a Kansas Divorce?
Kansas is an equitable division state. In an equitable division state, each spouse owns the income he or she earns during the marriage, and also has the right to manage any property that's in his or her name alone. But at divorce, whose name is on what property isn't the only deciding factor.
Instead, the judge will divide marital property in a way that the judge considers fair, but won't necessarily be equal.
What are the rules about child custody in Kansas?
Like all states, Kansas courts begin with a presumption that it's best for a child to have frequent and continuing contact with both parents after a divorce. If possible, judges want to support joint custody arrangements. However, the exact nature of the time-share will be determined by the children's best interests.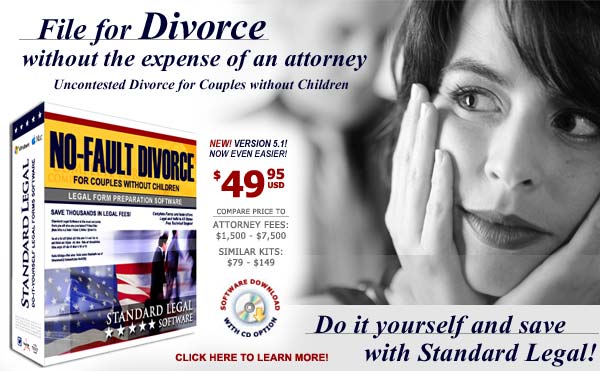 What are the rules about child support in Kansas?
Like all states, Kansas requires both parents to support their children after a divorce. The amount of child support depends primarily on each parent's income and other resources, as well as how much time each parent spends with the children. In addition, sometimes the courts will "impute" income to a parent who has the capacity to earn more than he or she actually is earning.
Does Kansas have resources for do-it-yourself divorce?
Yes. You can usually get fill-in-the-blank forms at your local courthouse or the local law library.
For your convenience, we have a sample Free Kansas divorce form here.
---
If there is not sufficient agreement among the parties to allow you use a do-it-yourself package; why not try Legal Match? It's a completely free service for you.
Short and simple; you choose your geographic area, describe your case, and it is submitted to attorneys practicing that area of law in your town. The attorneys will then email you (your identity is hidden) with a message detailing their experience and their fee structure. You can then choose whichever attorney (if any), meets your needs. All FREE to you. You choose the best deal!
Family Law Resources
STATE SPECIFIC Legal Separation Kit For Couples WITHOUT Children
STATE SPECIFIC Property Division Worksheet Kits
STATE SPECIFIC Legal Separation Kit For Couples WITHOUT Children
STATE SPECIFIC Property Division Worksheet Kits