HOW TO DIVORCE - WHAT YOU NEED TO KNOW
How to divorce? People considering filing for divorce have many questions.

Click Here if you are considering a divorce in Missouri or Kansas

When filing for divorce, you and your spouse may negotiate a settlement between yourselves or a judge may determine the conclusion for you. In most states there are now formal guidelines that the court must follow in awarding child support. But in most states, and on most issues, judges can make rulings at their own discretion after hearing evidence.

A Divorce Decree Must Deal With 5 Basic Issues
Alimony
Property Division
Child Support
Custody
Visitation
When a marriage dissolves, the state has several concerns that must be satisfied before a divorced is approved. The state wants to know how the children will be supported, who will support them, and who is in charge of them. The state is the parent of last resort.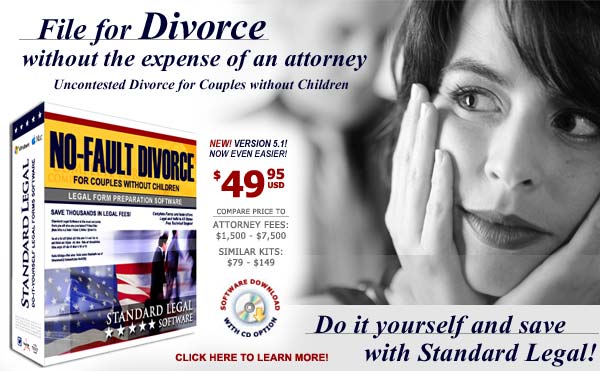 Here are 42 pages of sample material describing how to divorce in the State of Arkansas. State laws vary, so use this as only a guide. An attorney or your state court system can supply you with the appropriate forms and information for your particular case.

DIVORCE INFORMATION SAMPLE FORMS -
Divorce Help
Divorce Resources
Thinking About Online Divorce?
Divorce Forms & Combo Packages
Divorce Petitions & Complaints
Property Settlement
Legal Separation Agreement
Annulment Package
Cohabitation Agreement
Financial Statement Kits
Property Division Worksheets
Testimony Worksheet
---
TRIALS, TRIUMPHS, AND TRIBULATIONS
Share YOUR Story - And Read Stories From Others
---
FACT:
There is absolutely no substitute for
Collective Wisdom
!
---
Real stories from real people can help someone survive!

Tell about your legal battle click here (You can remain anonymous if you'd like).
---
Legal professionals are also welcome to submit an article that they feel would be beneficial to our readers.
---