LEGAL SEPARATION
A Better Option Than Divorce?
Legal separation provides an alternative for married couples who can't continue a life together and want something a little more legally binding than simply living apart, but aren't yet prepared to file for divorce.

Though in the eyes of the law a couple is still considered to be married, legal separation works to more clearly define the roles and responsibilities of each spouse. Since these decisions are documented and approved by a judge by way of a court order, they are legally enforceable.

Living apart from your spouse may seem as though divorce, rather than separation, is the most logical step to take. However, in some circumstances, becoming legally separated may be more beneficial to couples.

Most Common Reasons for Legal Separation
Not sure about divorce - a "trial divorce"
Possibility of reconciliation
Religious beliefs prohibiting divorce
To maintain health or other insurance
Tax considerations
To maintain social security benefits
A period to "work out problems" or "change"
If you choose to pursue a legal separation, the first step is to consult with an attorney specializing in family law. Since family law specialists frequently deal with divorce and child custody issues, they are well-versed in the issues that a legal separation agreement needs to address.

The issues to discuss with your attorney before completing an agreement are vast and include things like child custody, division of assets and assignment of financial responsibilities. Though the situation may be amiable at first, it's important to protect your own interests.
---
If a legal separation should progress to divorce, how you divide your assets now will most likely be how they remain in a divorce case.
---
It's important to make sure little details, like removal of names from deeds, titles, bank accounts, credit card accounts and leases, are all part of the separation agreement. In some cases, couples are able to come up with an agreement working together with one attorney, but in others both spouses will consult their own lawyers.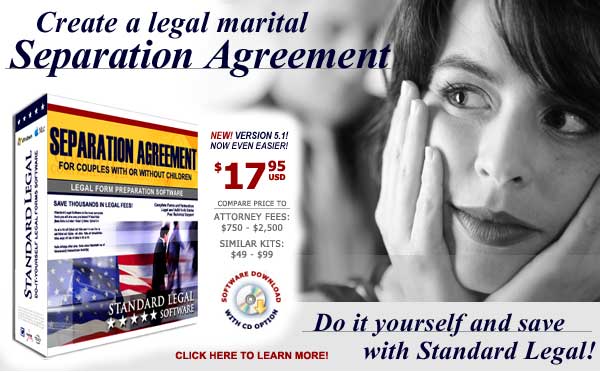 Once both you and your spouse have spoken with attorneys, it's time to come to the table together. You, your spouse and the attorneys will meet with your proposed agreements and make changes or revisions until a mutually agreeable settlement has been created. Then, one (or both) of the lawyers will file an application with the court so that a judge can sign the agreement and make it legally binding.
Though for all practical purposes, a couple with a legal separation agreement live separate lives, it's important to keep in mind that legally they are not single. Legally separated couples are free to do as they wish in terms of dating, but when it comes to considering remarriage, it will be necessary to move forward with divorce.
Family Law Resources:
Family Law Resources
STATE SPECIFIC Legal Separation Kit For Couples WITHOUT Children
STATE SPECIFIC Property Division Worksheet Kits
STATE SPECIFIC Legal Separation Kit For Couples WITHOUT Children
STATE SPECIFIC Property Division Worksheet Kits
FEATURED ARTICLE
"Legal Separation" VS "Separation"
When a divorce seems imminent, a married couple inquires about the possibility of "legal separation". Some states refer to separation by other names, such as "separate maintenance".

Usually, when people use the term "legal separation", they are referring to a situation where a court has entered an order governing what will happen while the parties are separated, perhaps covering issues such as child custody and support, and spousal support (alimony).

Typically, a court will have the power to resolve as part of a "legal separation" any and all issues that would normally be resolved in a divorce. The exception is that when the final order is entered by the court, the parties remain married.

Additionally, most jurisdictions require a waiting or "cooling off" period before a court will issue a divorce judgment, but there is not ordinarily a waiting period before a court may issue an order of "legal separation" or "separate maintenance".

It is possible for a married couple to separate without going to court, on the basis of a mutual understanding or even without a written agreement.

---
Testimonals