LIFE PARTNER - COHABITATION AGREEMENTS
Life partners have their own unique legal problems and need to put
their own protective mechanisms in place.

Today, a greater number of unmarried couples are living together with no intention of ever getting married. In some situations, it is the choice of the individuals (whether male and female or same sex) to remain unmarried. In others, state law may not allow or permit a same sex marriage.

In most states in this country, the law usually does not recognize or give such individuals or life partners many legal rights. However, if the parties do a bit of preparation and enter into the appropriate legal agreements, each can protect his or her interests and can position him or herself to obtain many of the same legal rights as married persons.

The following are several areas where life partners can take steps to protect their interests and create certain rights, interests and benefits between them.

COHABITATION AGREEMENTS

A cohabitation agreement is a written contract entered into by two people prior to living together. These people do not intend to become married (if they were intending to become married, the more appropriate agreement would be a "premarital" or "prenuptial" agreement).

These agreements are similar to a pre-marital agreements -- however, rather than being entered into by persons who intend to marry in the near future, they are entered into by two people who intend to cohabit or live together as a family, but will not be legally married. Note that while a pre-marital agreement goes into effect only upon marriage, a cohabitation agreement generally is no longer valid if the parties marry.

A cohabitation agreement can address various financial and/or property issues that may arise during the cohabitation or relationship of the parties that must be resolved if the relationship ends. Reaching agreement on these difficult issues before they arise (and while the parties are not involved in disagreements or potential hostilities) can ease the stress and anxiety that often arises should the relationship reach that end.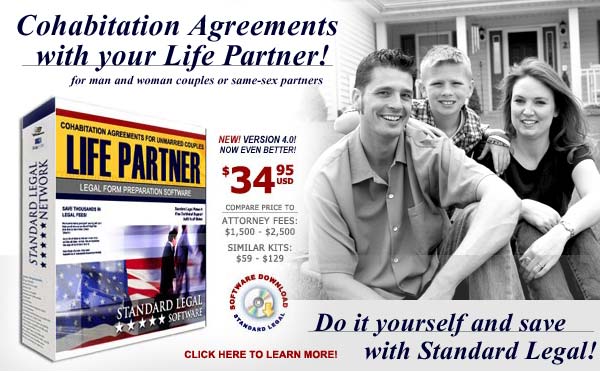 Cohabitation agreements can also provide evidence that the parties intend to live as partners -- and can have the effect of providing the other partner with some rights that would normally be reserved for a spouse.
Usually, cohabitation agreements set forth what financial resources each of the parties will contribute to pay the expenses incurred by the parties while they live together. The agreement usually provides that upon termination of the relationship, the joint property of the parties will be split in the same percentage as the contributions of the parties. Each person usually retains his or her own separate property that brought into the marriage along with certain other property.
---
In addition to preparing a cohabitation agreement, the following documents can and should be prepared so that one partner can provide care and support to the other partner, and be vested with some of the same rights as are married couples upon the illness or death of one of the partners:



---
TRIALS, TRIUMPHS, AND TRIBULATIONS
Share YOUR Story - And Read Stories From Others
---
FACT:
There is absolutely no substitute for
Collective Wisdom
!
---
Real stories from real people can help someone survive!

Tell about your legal battle click here (You can remain anonymous if you'd like).
---
Legal professionals are also welcome to submit an article that they feel would be beneficial to our readers.
---
PROFESSIONAL SPOTLIGHT ON:
YOUR FAMILY LAW SERVICE
MISSOURI
000-000-0000
KANSAS
000-000-0000
Offices in Kansas City and Overland Park
Credit Cards Accepted
Friendly Service
Free Consultation
---
PROMOTE YOUR FAMILY LAW SERVICES HERE!
---
Click here to read past Professional Spotlights!
FEATURED ARTICLE
Romancing the Prenuptial Agreement
...."10% who pursue a prenup decide against the marriage"


Britney Spears has plenty of critics. But with her divorce, she's laughing all the way to the bank. With all of Britney's millions, K-Fed made off with a lot, lot less than he could have. Her love may have faded, but her ironclad "prenup" has steadfastly weathered the test of time!

It may not be the most romantic part of your blooming relationship, but a prenuptial agreement can protect your financial future. Whether you're Donald and Ivana, Dick and Jane, or Britney and K-Fed, here's what you need to know before walking down the aisle.

Most people take marriage seriously, and hold high hopes for their new relationships. It's not surprising that prenuptial agreements aren't high on any betrothed's desirability list.

Even thinking about a prenuptial agreement is often likened to planning the end of a relationship before it's even begun. But in these times of soaring divorce rates and uncertain financial stability, it only makes sense that people should be concerned with such practicalities.

Simply put, a prenuptial (also known as an antenuptial) agreement is a legal....read more...
---
---
Testimonals
---