QUITCLAIM DEEDS - WARRANTY DEEDS
SURVIVORSHIP DEEDS
Real property is often a person's largest and most valuable asset
Quitclaim, warranty, or survivorship deed; which do I need? The issue of correctly transferring property can be vitally important. If you need to transfer the ownership of real property from one person to another, you will need to use a Deed to do so.
How do you know which one to use? The answer depends on the reason for the transfer, what goals are intended by the transfer and who is going to hold title to the property after the transfer.
QUITCLAIM DEED
This type of Deed contains no "warranties" that the property is being transferred with good title or without encumbrances - except those that are filed on record. No joint tenancy or right of survivorship is created.
This Deed tells the person accepting the title to the real estate that they will be taking whatever rights of interests that the seller or grantor has in the property. Nothing more and nothing less.
The Quitclaim Deed can be used to transfer property from a seller to a purchaser in a variety of situations. For example, when one spouse or relative desires to transfer property to another spouse or relative. Naming another person as a co-owner to the property or transferring property from a person to his or her trust are other uses for a quitclaim deed. This type of deed is also often used to transfer property from spouses that become divorced.
WARRANTY DEED
A Warranty Deed conveys the title to property whereby the seller makes some guarantee that the title will be good and unencumbered. Except as may be stated on the deed, they also agree to defend and protect the purchaser against any loss that may arise in the future from any defect in the title at the time of conveyance.
The Warranty Deed is the most common type of deed used to transfer property from one individual or business to another.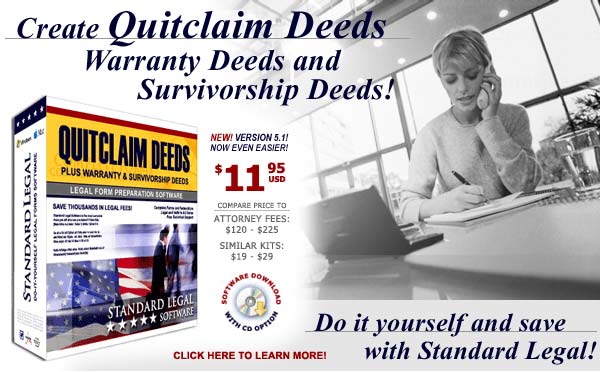 SURVIVORSHIP DEEDS
This Deed is a warranty deed with "survivorship" rights created. It creates a joint tenancy (sometimes called a survivorship tenancy) between two or more grantees. Upon the death of one of the grantees, his/her interest passes in equal shares to the surviving joint tenant(s).
This deed is used commonly when a person or couple purchases a house and each desires the joint ownership and survivorship features.
An inexpensive way to prepare the deed that's right for your situation is with Quitclaim Deed Legal Forms Software by Standard Legal. Great value for your money!

---
PROFESSIONAL SPOTLIGHT ON:
YOUR FAMILY LAW SERVICE
MISSOURI
000-000-0000
KANSAS
000-000-0000
Offices in Kansas City and Overland Park
Credit Cards Accepted
Friendly Service
Free Consultation
---
PROMOTE YOUR FAMILY LAW SERVICES HERE!
---
Click here to read past Professional Spotlights!
FEATURED ARTICLE
Romancing the Prenuptial Agreement
...."10% who pursue a prenup decide against the marriage"


Britney Spears has plenty of critics. But with her divorce, she's laughing all the way to the bank. With all of Britney's millions, K-Fed made off with a lot, lot less than he could have. Her love may have faded, but her ironclad "prenup" has steadfastly weathered the test of time!

It may not be the most romantic part of your blooming relationship, but a prenuptial agreement can protect your financial future. Whether you're Donald and Ivana, Dick and Jane, or Britney and K-Fed, here's what you need to know before walking down the aisle.

Most people take marriage seriously, and hold high hopes for their new relationships. It's not surprising that prenuptial agreements aren't high on any betrothed's desirability list.

Even thinking about a prenuptial agreement is often likened to planning the end of a relationship before it's even begun. But in these times of soaring divorce rates and uncertain financial stability, it only makes sense that people should be concerned with such practicalities.

Simply put, a prenuptial (also known as an antenuptial) agreement is a legal....read more...
---
---
Testimonals
---